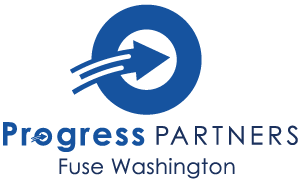 Build a better Washington and become a Progress Partner!
Become a Progress PartnerUpgrade your current membership
What is a Progress Partner?
Progress Partners are our most valued and committed supporters that build a better future for us all through monthly contributions. Progress Partners allow us to effectively plan and execute the long term projects that bring greater prosperity to our state by providing a predictable stream of support. You can become a Progress Partner right now by making an ongoing monthly donation of $5 or more. Your contribution is automatically deducted on or around the same day each month for as long as you are a partner. Our work wouldn't be as impactful and widespread without the sustained support of our Progress Partners.
What is the Impact?
Reach people both in Washington and across the country with the Progressive Voters Guide
Place on-the-ground organizers, fellows, volunteers in strategically important areas to mobilize and inform voters
Support future progressive leaders running for office
Motivate people to take action at the ballot box and in the legislature to build a more progressive landscape across Washington state
Fuel our earned media and new media to strengthen our progressive messaging on the most important issue campaigns
Build and share progressive narratives on important issues like climate change, voting justice, affordable housing, and tax reform
Exclusive Progress Partner Benefits
Fewer fundraising calls and emails
Early access to the Progressive Voters Guide
Insider look on issue campaigns, elections, ballot initiatives, bills, and new laws
A monthly e-newsletter on our work and your impact
Discounted tickets and member benefits at Fuse events
Annual briefing with our Executive Director, Aaron Ostrom
For questions or concerns regarding monthly donation, please contact Ciara Coughlan at ciara@fusewashington.org or by calling 206-420-0133 ext. 2118. Please leave a voicemail if you are not able to reach us by phone and we will get back to you within two business days.